How to make & manage domain offers in WordPress
My Domain List plugin creates the means to allow domainers to sell their domain portfolio on the WordPress site. One of the many options to enable domain sales is the "Make an Offer" button displayed for each domain name. The Make an Offer Process of the My Domain List WordPress plugin was enhanced to include email notification with version 1.0. This process is available on Standard and PRO versions.
Here is a sample of a domain portfolio for sale.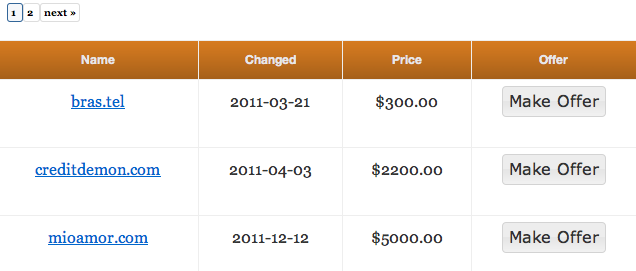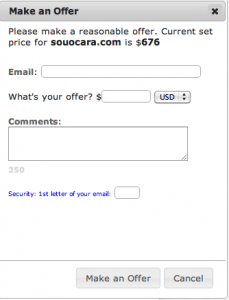 What happens when a user clicks the Make an Offer button?
When the user clicks on the Make an Offer button, he/she will fill out some necessary contact information as well as an offer bid to allow the domain portfolio owner to consider the offer.
The user must enter a valid email address for contact and a offer price. Please enter an reasonable offer amount, so the domain owner can seriously consider your offer. Comments are optional.
Finally, to prove the offer is coming from a human being, an answer to the security question is required.
Make an Offer Process
When the user Makes the offer on a domain name, the offer process starts.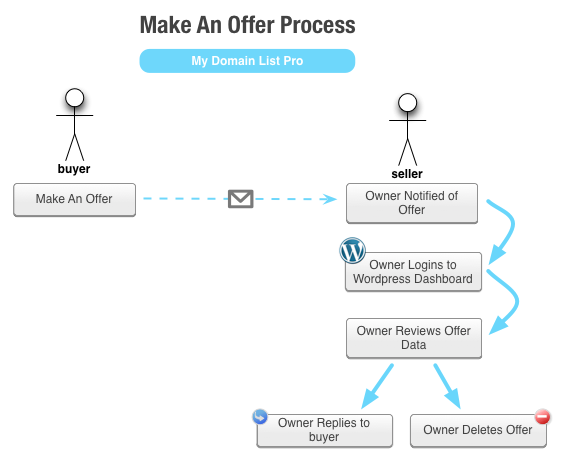 PRO only – The plugin will generate an email to the domain owner. The email will be sent to the email address specified in the WordPress site General Settings Email configuration.
The domain owner will be able to review the offer by logging in to WordPress Dashboard.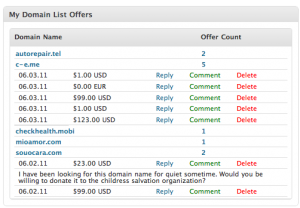 The My Domain List plugin Dashboard offer stats on the offers made for each domain name.
The domain owner can
* View the Comment
* Delete the offer or
* Reply to the potential buyer to initiate negotiation and domain transfer.